World War II-Era Photographs
Don Martin first came to North Carolina as an Army photographer. In this role he documented life at the now-demolished Camp Butner, northeast of Raleigh. The Carolina Room has acquired photographs of the camp and its people by Martin. This web exhibit honors North Carolina's participation in the great national effort of World War II and the professional beginnings of a great photographer.
Don Martin moved to Charlotte after the war and worked many years for the Charlotte News. [2]
This exhibit contains 47 images of Camp Butner, organized under the following headings:
Photos of Camp Butner

[3]

 - 20 images of buildings and vehicles
Images of Camp Life

[4]

 - 19 images of dances, games, weddings, and religious services
Military Training and Personnel

[5]

 - 8 images of service men and women going about their duty
Main Image: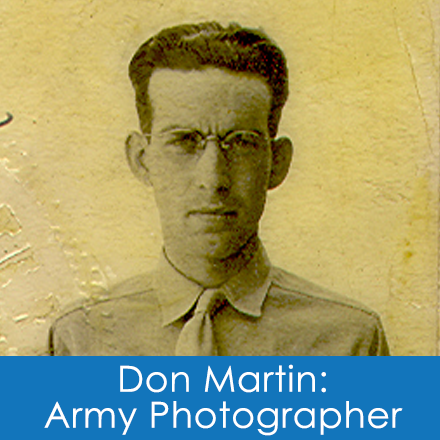 Exhibit Summary:
Don Martin (1919-1999) worked for the Tom Franklin Studio and the Charlotte News, after serving at Camp Butner in north central North Carolina. This exhibit of his wartime photographs honors North Carolina's contribution to World War II. (ID photograph courtesy of Paula Onxley)