Based on correspondence between herself and her father, Annie's home town of Charlotte, NC, was never a consideration as a place to start a practice. In the summer of 1884, she wrote the following to Dr. J. B. Alexander: "I can't decide where to locate when I leave Philadelphia. I've thought of Baltimore, Atlanta, and Jacksonville, but there will be obstacles wherever I locate. My success will depend on my ability and the liberal views of the people among whom I will be."
In 1885, the newly graduated Dr. Annie Alexander was in Baltimore where she  obtained her license from the Maryland Board of Medical Examiners. She was the only woman of one hundred candidates for licensure and earned the highest score of them all. Alexander interned at the Baltimore Children's Hospital and became an assistant teacher of anatomy in the Woman's Medical College of Baltimore. She even opened a private practice on the side.
While working in the Baltimore Children's Hospital, Alexander contracted pneumonia, and soon showed signs of the most dreaded disease of her time, tuberculosis. It seemed her medical practice would end almost before it began. Annie Alexander left Baltimore and moved to her Uncle Henry Lowrie's home in Florida where she recuperated in the sunny climate.  For the rest of her professional career, Dr. Annie participated in fundraisers for a cure for tuberculosis and presented lectures at local venues to create awareness of a disease that continued to plague people all over the world until the doctors discovered how to use antibiotics against infections, pneumonia and tuberculosis.
During her period of recuperation - the summer of 1886 - Annie received news that her brother, Samuel Lowrie Alexander, had died. He had just finished his first year at Davidson College. Sam was buried at Mt. Gilead Associate Reformed Presbyterian Church in Huntersville. 
Whether her bout of ill health made Annie believe she needed to live closer to her family or whether her brother's death created a desire to be closer to them, we will never know. For better or worse her time in Baltimore was done. Regardless of what other family members thought or the local population would say, Dr. Annie Alexander returned to Charlotte to hang out her shingle and practice medicine.
Sub-Title:
Baltimore, Illness, Return Home
Main Image: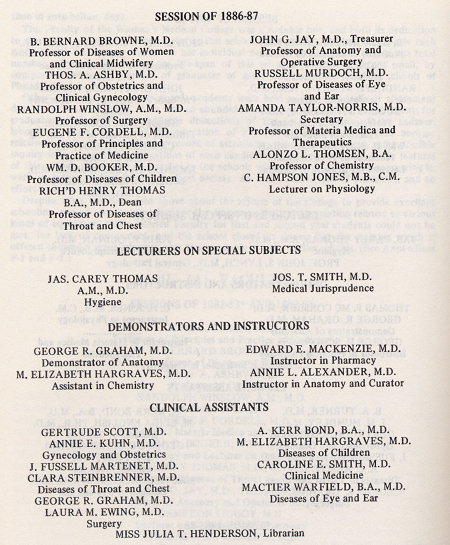 Source:
(Alexander Papers, Box 1, Folder 1. Atkins Library, Special Collections, UNC Charlotte)