Shoppers Shift
Is it uptown or downtown? In the late 1950's Charlotteans were downtown day and night. Department stores, such as Ivey's, Belk's, Efird's and Montaldo's, attracted many customers. Theaters, which formerly hosted vaudeville acts, played moving pictures. Multiplex cinemas and shopping malls were just over the horizon.

Today's city leaders struggle to identify the winning combination of business, housing, commerce and entertainment that will bring Charlotteans back uptown.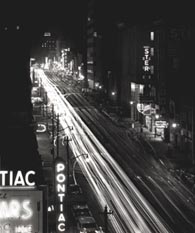 Photo: 3/57 - Article: 3/8/57

Looking north, traffic streaks down Tryon Street. Shopping options ranged from cars to dresses. The Barringer Hotel, 426 N.Tryon, was converted to public housing in 1983. It may be the next victim of "redevelopment."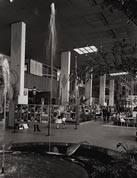 Photo C. Summer 1961
Related Articles
10/29/59,6/2/95

Convenience and comfort may have been two factors in the conceptualization of the shopping mall. Charlottetown Mall, now Midtown Square, opened October 28, 1959, and was the South's first enclosed mall. Meanwhile downtown merchants considered free parking as a solution to the decrease in downtown shoppers.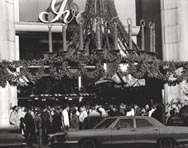 Photo: Christmas 1968 - Article: unknown

Despite competition from suburban retailing, downtown was still a retail center in the sixties. Holiday shoppers gather in front of Ivey's.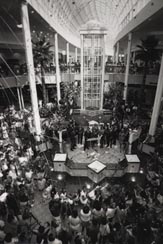 Photo: 7/24/91
Article: 7/25/91 (Bob Leverone)

Retail flight to the suburbs continues. Carolina Place Mall serves the southern most portion of Mecklenburg County. It opened in 1991 but is still overshadowed by the supermall Southpark that opened in 1970.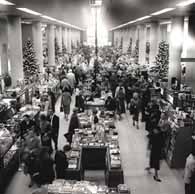 Photo: Christmas 1957
Article: unknown

What a difference 33 years can make! Throngs of shoppers compete for aisle space in Ivey's during Christmas of 1957. But there was plenty of room when the doors closed forever in 1990.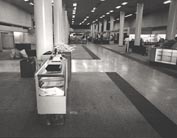 Photo: 8/17/90
Article: 8/18/90 (Bob Leverone)