Realities in 1900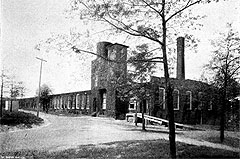 Children under the age of 12 work in textile mills until 1901 when the law changes. However, it does not apply to children of widowed mothers.
There are 676 children working in Mecklenburg County in 1900. Their average annual salary is $99.00.
Segregation of the races is strictly enforced.
No businesses can open or sporting events take place on Sunday.
Strong odors from animals, tanneries, stables, butcher shops and other manufacturers fill the air.
People work sixty-six hours a week.