All Play, No Work
Getting paid to play a sport - is it work? It is certainly an occupation. Sports, both professional and semi-professional, have created many affiliated jobs and contributed to Charlotte's economy.
Same Name, Different Game


Basketball, baseball or football. The team nickname, Hornets, has been used several times. A team nickname and mascot are important to the marketing success of any sports venture.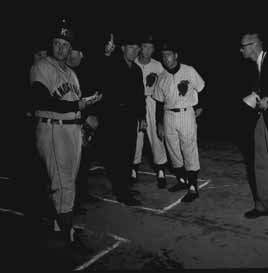 Photo: 4/18/57 - Article: 4/19/57

Opening night of the season, Charlotte's players were easily identified by the large patch depicting the hornets' nest strategically placed over their hearts. The Charlotte Hornets baseball team was gone by 1972, replaced in 1976 by the Charlotte Orioles. The Hornets nickname was used intermittently for baseball teams beginning in 1908.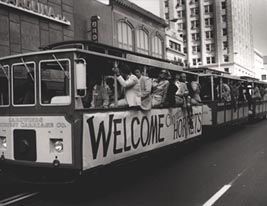 Photo: 10/8/74 - Article: 10/9/74 (Jim Wilson)

The hornet mascot was also claimed by the short-lived World Football League team. Fans cheered the team on for just over a year, from their opening game on October 9, 1974, until the WFL dissolved on October 22, 1975.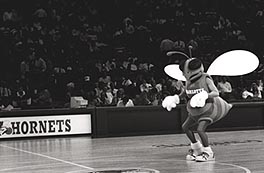 Photo: 11/18/88 - Article: 11/22/88 (Diedra Laird)

The NBA Hornets appeared on the scene in 1987 and played their opening game November 4, 1988, to the first of a record number of sell-out crowds. Hugo the mascot, whose image was created by Jerrell Caskey, is a lovable hornet and the one best known today. No one would question his/her (?) work to spark the cheers and enthusiasm of fans.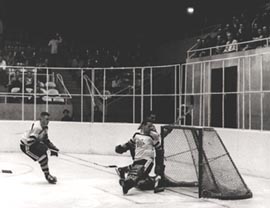 Photo c. 1957 - Article: 4/13/57

A fire in Baltimore sent the Clippers to Charlotte in 1956. The local hockey club hoped to demonstrate community interest in hockey. Instead of an expected crowd of 8,000 fans, 10,363 attended and 3,000 were turned away. The Clippers moved to Charlotte for good in the 1956-57 season. In 1962 the team inaugurated the new name, Charlotte Checkers.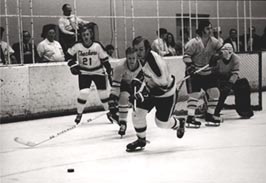 Photo: 4/13/72 - Article: 4/14/72

The Checkers, who were once the Clippers, played until January 30, 1977, ending their season with a game against the Baltimore Clippers and then returned in the 1993-94 season. This newest team won the Eastern Hockey League Championship in 1995 and captured the Jack Riley Cup.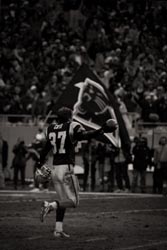 Photo: 12/22/96 - Article: 12/23/96

Playoff bound Panthers have Chad Cota to thank for a game-saving interception against the Pittsburgh Steelers.